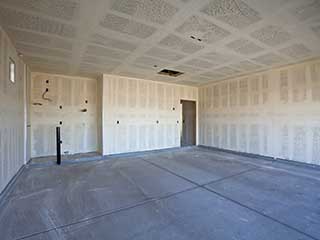 Basements are often overlooked as rooms that can be transformed into useful living spaces. Homeowners tend to use their basement to store and stack tools, sporting gear, toys and other belongings. As kids grow, they tend to be less than happy about sharing a single room, and more space may be required. When this happens you need to look at your basement and realize what a waste of space it currently is.
Clear Out The Clutter
The first thing you need to do is clear everything out of your basement. If you discover things you haven't used in years, you most likely will never use them again so unless they hold sentimental value, consider selling them or giving them away. Once your basement is empty, you may very well be shocked with the amount of available space you suddenly have. This is when you can decide to have one huge central space or to turn your basement into a couple of extra rooms with drywall lined partition walls, depending on its size, of course.
Check The Floor And Walls
Once the clutter has been cleared out, you need to check your walls and floors for shoddy plumbing or electrical work. There is not much point in a project of this type if the work will be ruined by moisture or a possible fire. Check for moisture and mold, and make sure your electrical infrastructure is up to code. Once that is done, the remodeling project can begin.
Drywall Is The Perfect Choice
Using drywall to line the exteriors walls of your basement is a great idea. There are many types of panels available so if you are worried about things like mold or moisture, particularly in or near a bathroom, you can have moisture resistant sheetrock installed. There are also boards with improved flame resistant properties, for that added sense of safety. Regardless of what you want to add to your basement, there is a drywall product that is ideal for the job.
Making The Decision
Depending on the size of your basement, you may decide on a larger entertainment room or you could add an extra bedroom for a family member or a guest. You could even turn your basement into a fully serviceable apartment, and rent it out for additional income. Drywall panels are very versatile and relatively easy to install if you have the necessary experience and skills. Reach out to our experts at Drywall Repair & Remodeling Pasadena to have our professionals complete this project to your satisfaction.