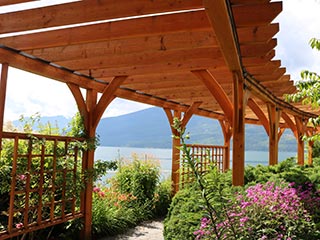 Lounging in the shade of your deck with a proper cover above can feel like the epitome of luxury. But you've got something even better you can go for. As a perfect addition for decks and patios, an outdoor shade structure gives you a great place to hide from harsh sunlight as well as a major aesthetic boost. Gazebos with walls, nets, and lights can add a lot to your Pasadena property's exterior appeal. The same goes for pergolas with motorized canopies that you can control remotely. These patio shade structures offer you a major boost at a fairly low cost.
Custom-built Wood Gazebo
The aesthetic appeal of a common 10X10 gazebo has become widely popular. And for good reasons! A wooden gazebo adds a tremendous sense of style to your deck or paved patio area. Wooden gazebos can have only the posts with no walls to allow for open-air style. Combine that with patio shades above and you can enjoy this setup in style. Gazebos with walls can provide more privacy, as well as protection from winds and the elements. If you don't like the idea of wood, composite gazebos also stand as a viable option. These can mimic the textured timber look with composite wood. Gazebos make for an excellent addition to Pasadena decks, composite or real wood. Does one design pique your interest? With a free estimate, you'll have a lot of fun finding out.
Pergola With a Motorized Canopy
A natural extension of decks, pergolas have become especially popular to build for patios too. These outdoor shade structures give you a unique-looking roofed structure that can become a lounge area with the proper use. Simple wooden pergolas simply boast the boarded roof. But you can do much better. A pergola with a motorized canopy lets you decide where you want more shade or protection from rain and other elements. All you need to do is push the button, or get a motorized pergola canopy that works with Wi-Fi and use your smartphone! Pergolas with canopies can also have attached, stationary covers for permanent shade. You decide what pergola is best for your Pasadena property and what custom design you love. Our local contractors take care of the rest.
Open Air Pavilions
To let the breeze engulf you without suffering under the harsh sun, open pavilions work tremendously well. These outdoor shade structures can utilize a variety of draperies and curtains to let you decide how much privacy and sunlight you want at any given moment. Custom pavilions can utilize wooden support beams or composite materials too. You also can choose from motorized pavilion shades and canopies to simple curtains on rods or other options. As the nearest local Pasadena deck pavilion contractors, we're happy to help customers customize designs on all outdoor shade structures. Pavilions included.
Free Estimates On Pasadena Outdoor Shade Structures
Deliberating with yourself or your family what type of gazebo, pergola, pavilion, or other shade structure to get for your home? Our free consultations have proven tremendously helpful to anyone contemplating or not sure where to start. We've built many decks and outdoor shade structures near the Pasadena area. And yours can be the next one. Give us a call and schedule your free estimate to start looking at beautiful and functional gazebos, pergolas, and more.