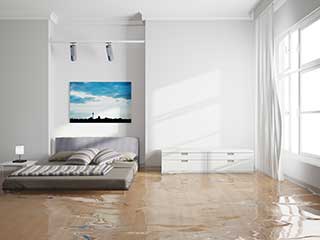 Leaky pipes, heavy rains, sewage water, and floods can all cause water damage to your home's drywall. Because this material is porous and highly vulnerable to moisture, it will get soggy and large amounts of water can seep in once it is exposed. In these instances, it is highly important to act quickly as moisture in your drywall provides a breeding ground for mold growth and other problems.
Dealing with Water Invasion

If water invades your home and gets into the walls, you'll have to replace the whole drywall to make the area habitable again. There are certain steps you can take before hiring a professional for a repair.

Find the Source of Moisture

Inspect all corners and vulnerable areas to find out where the leakage is coming from. Then, simply place a bucket above the spot so as to prevent the spreading of water. If your problem is a leaky pipe then close off the valve and stop the flow of water through the damaged pipe.

Turn off your Electricity

Switch off the entire electric supply to your home until after the water damage has been addressed. It should go without saying that water and electricity don't mix very well and can cause extensive damage to your property or even harm to the household members.

Put Away Your Valuables

In order to prevent the water from reaching your possessions, make sure you remove anything that's in its way. If there are any carpets or furniture in the water-invaded area, get them out so that you don't suffer any more financial losses.

Hire a Professional

After your water problem has been addressed, you'll want to start restoring the place to its initial condition. This includes getting rid of the soggy drywall and getting new material installed. Our professionals at Drywall Repair & Remodeling Pasadena can help you with this. We've got over a decade of experience in repairs, replacements, and installations and know what it takes for a job well done. We highly recommend you don't fiddle with these jobs on your own if you don't know what you're doing.