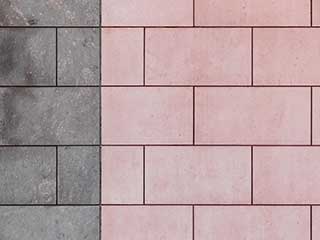 The smooth aesthetics of wall and floor tiles is something that's hard to beat. Whether in the kitchen, bathroom, or other places, smooth and clean floor tiles give a sense of elegant décor. And you have a multitude of choices to pick from. Ceramic and porcelain tiles make for two very popular options. And for good reasons. You can also go for laminate, a.k.a floating wood tiles that give you that textured look of timber with the benefits of stone. You also have the option of installing marble mosaics and countertops, perfect for food preparation and kitchens. Marble island cabinets serve a particularly great purpose. Our professional tile installers and drywall contractors have the experience and skill to help every customer create tiling tapestry they want. And it all starts with a free consultation!
Decorative Tiles For Bathrooms
In places with high moisture presence, you need waterproof materials to protect the wall insulation. You also need to ensure the floors remain easy to clean and wash. Bathroom tiles provide a sanitary aesthetic that enhances the water-resistance of the walls and makes it possible to create all sorts of unique looks. Bathroom tiles can have dots, streaks, and smooth colors or even drawings, making it easy to create an eye-pleasing look that also brings utility. Bathroom floor tiles and wall tiling protect the underlying material (often drywall) from moisture. Water slips from the tiles and the sealed grouts and thus doesn't soak into the plaster. Installing bathroom tiles requires precision to ensure no moisture gets through. Reach out to our tiling contractors near Pasadena to make sure it gets done correctly.
Floating Wood Tiles
The rich and beautiful texture of wood gives laminate tiles something that many customers love. Whether for kitchens or general floors, floating wood tiles create an aesthetic like no other. The wood-like appearance gives the room a natural décor. Normally, that would come with extra maintenance and the need for regular recoating. But with laminate floor tiles, you don't have to deal with the high maintenance of real wood. You get that rich texture wood-like look with tiles that stay hard-wearing and waterproof. This makes laminate floating wood floor tiles a perfect choice for creating unique décor in Pasadena homes, condos, hotels, and other types of commercial establishments.
Ceramic and Porcelain Tiles
These two common tiling materials have different attributes, but both can create lovely aesthetics. Porcelain tiles prove more durable, suitable for outdoor use as well as indoors. Their natural white hues make them create a very sanitary look that's perfect for rooms where you want to create a clean look. Ceramic tiles cost less but don't possess the same level of durability. Of course, that makes them easier to cut during the tile installation process. Porcelain tiles, although more expensive and harder to install, will last far longer in virtually every application. Looking to get new tiles installed in a Pasadena residence or business? Our professional tiling contractors can get you started with a free estimate.
More Than Just Generic Bathroom Tile
When you hear "tile" you may think of the boring white squares usually present in bathrooms, but the truth is there are many more types than just that! Whatever look and style you want for your home, there's bound to be a type of tile that would complement it beautifully. Tile is a great addition to rooms such as the bathroom or kitchen because it's very easy to clean, and durable so it will easily hold up over the years without much if any maintenance. It's also waterproof to avoid damage if there's ever a water leak or otherwise. Along with all this, it's hypoallergenic!
What Type Of Tile Is Best?
This will depend on the room it's going in, and what you're looking for exactly! Thankfully, we're familiar with a huge array of the various kinds, so we'll be able to assist you in finding the perfect fit. While natural stone tends to be the more expensive option, it's a gorgeous edition to any home with stark coloring and unique patterns such as with marble or granite. Glazed porcelain is one of the sturdiest of the types, as well as being less likely for things like mold or bacteria to be able to grow on it. While glass will require more careful treatment, it's the most versatile of them all. Ceramic is the least expensive of the types.
Allow Us To Help
Our experts can come out at a time that's best for you to get to work on your brand-new tile addition! We'll be careful and precise to ensure that the tile will all be even and smoothly applied to the wall using special equipment and by cleaning them beforehand. The tiles with the adhesive agent will be carefully pressed to the wall and spaced evenly with our spacer tool, and once the adhesive has dried we'll add the grout.
Let Us Spruce Up Your Home
Just call Drywall Repair & Remodeling Pasadena now and get your appointment scheduled today! You'll be glad you did.