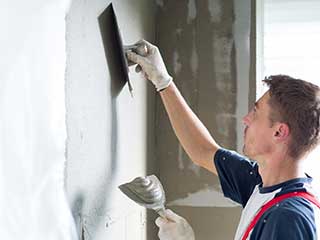 If you are a resident of Pasadena, a suburb of Los Angeles and a destination in its own right, and you happen to find yourself in need of some wall or ceiling repairs, you've found the right team for the job. This need may arise because you are putting in a new addition to your home, renovating existing property, or simply need to have a section fixed due to it becoming cracked or damaged over time. To get started, it's helpful to first take a look at what drywall is, how it is used, and what services a drywall repair specialist like our company can offer you.
It Goes By Many Names
Sheetrock, gypsum board, and plasterboard are just a few of the different names this material often goes by. It is used as a key material in home construction, due to the fact that it can easily make up the wall filling of any structure. It can also be used as ceiling material or be cut to size to form other architectural features such as eaves, arches, and entryways. Some of the enduring popularity of this material can be explained by its durability and strength, but it is also cheap and can be molded to fit into a wide range of different styles inside your property. Still, no material is completely invincible, and over time, new drywall installation or at least some maintenance and repair may be required.
Fixing Different Types Of Damage
If you have noticed any cracks, holes, crumbling of the edges, or water damage to your drywall, you will need to have our team take a look at the problem. During this initial inspection, we'll assess the damage and decide whether it's better to simply patch things up, or remove it completely and install new drywall sheets in place of the old material. If there are small cracks, these can usually be patched up rather easily. Things like water damage, mold, or large holes in the panels, however, are usually better off being removed entirely.
A Variety Of Additional Services
In addition to the various drywall services we mentioned, you can also count on us to take on other home remodeling and improvement projects. Plastering, as well as, finishing and texturing, are all part of the list of services that we can offer you in addition. Once the new drywall panels have been put into place, they can then be covered with an array of decorative finishes, which include fabrics, wood, vinyl and a lot more.
Consult With Our Experts
It's a good idea to discuss all of these different possibilities with our experts so that we'll be able to help you figure out what personalized touches will best improve the interior decor of your home. Contact our team at Drywall Repair & Remodeling Pasadena today and let us take care of everything you need.