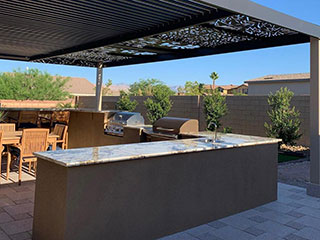 People choose to enhance their patios and decks with outdoor kitchen setups for a multitude of reasons. The utility of such a setup goes without saying. Cooking and eating out in your patio, enjoying the open air, that's something that people who have outdoor kitchens already usually take for granted. But besides utility, adding an outdoor kitchen for your Pasadena deck also adds aesthetics. The variety of unique looks and outdoor kitchen designs you can opt for can lead to some very creative appearances. Consult with our local professionals to see what outdoor kitchen features and designs will best suit your home.
Beautiful Outdoor Tabletops
The first add-on that people often go for is new table sets for their patios and decks. The surface you'll find yourself eating on needs to have a specific texture and feel. Plus, you want your new outdoor tabletops to fit the existing décor of the patio or deck and elevate it. We craft outdoor tabletops from wood, composite, and stone. Discussing different options with each customer helps us suggest the best features and looks for their taste and budget.
Custom-Built Patio Kitchen Cabinets
Whether you want new cabinets outdoors for storing tableware and alike or for other reasons, building new cabinets for your outdoor kitchen adds a lot of value. This applies both in a monetary sense, as it adds the value of the outdoor kitchen. But it also works in an aesthetic sense. The outdoor kitchen of your Pasadena home creates a certain look. There's something about outdoor patio kitchens with cabinets that suggests organization and precision. Plus, the actual utility granted by having custom-built outdoor cabinets in your patio kitchen makes life a little bit easier for you. Store dishes and utensils outside and save yourself the hassle of traveling in and out of your house to get things when setting up the table.
Grill Station For Deck & Patio Kitchens
Speaking of setting tables, what about preparing food? A BBQ island with an adjacent grill station provides all the necessities one could require when cooking in their outdoor kitchen. Need water? They're right there. Want to turn on the gas? It's right there. Where do you plug something into the electrical outlet? Why, right here, of course. A BBQ island and grill station combo for the outdoor kitchen of your Pasadena property will serve as the one-two punch for a knockout cookout. Prepare all the food and throw it on the grill, all in the same spot without needing to start going back and forth.
Pasadena Outdoor Kitchen Builders Near You
Save yourself the headaches and woe of trying to research every setup and feature. That's what local professionals exist for. Talk to our contractors in Pasadena and get a free estimate on a new custom-built outdoor kitchen for your home, business, or other. We'll discuss different features, outdoor kitchen design ideas, materials, and plenty more. Working within a customer's budget is one of our specialties. And we've got quite a selection of options in every tier. Call or email to book a free consultation, in-person.