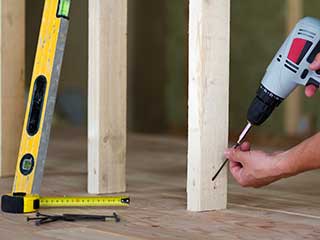 Purchasing a home is a dream come true for most families. Getting a picture perfect little house with a lot of character can feel fantastic, especially for a young couple just starting out. Then the family starts to grow. When children are small they require less space, but as they grow and become teenagers, they start wanting a room of their own. When faced with this type of scenario, homeowners have one of two options. Add rooms, or sell and buy a bigger house. If moving is not an option then room additions will give you the added space you need. There are a few things to consider first, like whether to add another floor, or to extend a existing one. Either way, home additions and extensions can be a bit of a headache, which is why it's important that you consult a professional about it. Our experts at Drywall Repair & Remodeling Pasadena will be happy to help you make the right decisions, and to carry out the necessary work.
Going Vertical Or Lateral?
Adding more space to your existing home can be done in two ways. You can convert your single story home into a two-story structure, or you can extend it sideways. Extension obviously depends on the size of your surrounding property and how much land you have available. If you don't have a lot, you may need to consider adding another floor. Planning is crucial for both of these options as certain cities may have restrictions on both. Before you make a decision, check your local building codes to see what the limitations you must take into account are.
Consider The Design
Once you've decided on the type of room additions you want to have done, the next step is to decide how many rooms you will be adding and what type of rooms they're going to be. An additional floor will give you plenty of space to work with, but keep in mind that if you are adding bedrooms upstairs, you may also need an extra bathroom. Even if you choose to extend the floor rather than build a new one, you may still need to consider an extra bathroom, even if that one will be for guests to use when they visit. Also, think of how the new additions will function in terms of energy efficiency and how much extra plumbing and electrical work will be needed.
Maintaining Aesthetic Value
One extremely important aspect to consider is the aesthetics of the finished additions. Will they seamlessly blend in and complement the existing structure or will they stand out like an eyesore? This may not be of concern to you if you plan on staying in that home permanently, but your neighbors may not be happy with if they feel it detracts from the curb appeal of your neighborhood. The new additions or extensions should blend naturally with the original parts of the building and this may mean some additional expenses.