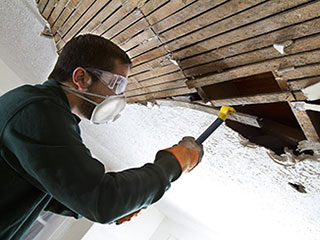 Our professional popcorn ceiling removal services are designed to provide an effective and fast solution to any situation involving the aforementioned material. Whether you're planning major home remodeling efforts or you simply need to resolve an existing problem quickly, we are the right team to reach out to. Our technicians all have the long-term experience and comprehensive expertise required to safely undertake the removal of this potentially dangerous material, and even install new asbestos-free texture in its place.
Any Type Of Property
We specialize in carrying out both commercial and residential popcorn ceiling removal projects. Room size is not a factor for us, as our experts have the capacity to handle even large-scale establishments. Our professionally trained technicians have a vast range of knowledge and superb technical skills and we are fully prepared to handle this potentially hazardous material by taking all the required safety measures.
Safety Comes First
Old popcorn ceiling material, or cottage cheese/stucco, as it is also known, was often made with white asbestos, which has since been banned due to its hazardous qualities. When dealing with this material, extra care needs to be given to health concerns. That's why we always use state of the art equipment like powerful vacuums and respirator masks, as well as dust proof plastic sheeting to protect ourselves and your home from any potentially harmful fibers. You can count on us to never cut any corners when it comes to scraping off and removing the old texture.
Enhancing Insulation Capacity
We can do a lot more to improve the condition of your ceiling than just remove the lumpy texture. If you want to have your ceiling insulation replaced, we can take care of that as well. Making sure that your indoor space has the highest possible level of energy efficiency is a great way to save money on your electricity bill. Our team will help you decide on the type of insulation that's best suited for your needs and budget, and then carry out the installation process at a time that's most convenient for you.
We Also Repair Ceiling Damage
For problems with your existing ceiling finish, you can rely on our team to effectively repair and patch any cracks or holes. We can make problems such as water stains, mold growth, and other physical damages go away completely.
We're Always Ready To Help
Don't hesitate to reach out to our team at Drywall Repair & Remodeling Pasadena today and consult with our experts. We have a wide variety of services we can offer you, all of which are performed by professional technicians with remarkable skills and knowledge.